Custom embroidered shirts are a fun alternative to screen printed shirts. They're a little dressier, but still casual enough to wear to the game, on hikes, and during fundraisers. Embroidered shirts let everyone know what you stand for and whom you support.
Our wide selection of embroidered shirts includes choices for the men, women, and children in your life. You can choose what to have embroidered on the shirt, and where you want to place it. In short, the choices are endless, and they are up to you! Of course, our customer service department is ready to help if you need it. Just give us a call if you want a bit of guidance choosing the perfect design.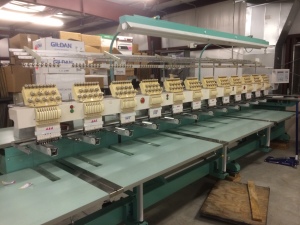 Look Snappy and Unique While Promoting Your Cause
Embroidered shirts have an extra "oomph" to them. They look a bit classier than regular shirts, but they're still as comfortable and customizable. Make some for your church group or social club to wear at volunteer events so you feel proud of yourselves. Or, make embroidered shirts to sell at fundraisers in support of your child's school or a charitable organization.
Go Sporty with Embroidered
Custom embroidered shirts make great practice and playing uniforms for sports. Whether it's for your children's basketball, flag football, or soccer team, or for your own weekend warrior buddies playing in a softball league, you can get the shirts you want with your team's name and logo embroidered on them to scream your team spirit. They're also great for the stands if you order a bunch for the fans to wear at big games.
A Casual Business Solution
Embroidered shirts can provide the perfect mix of professionalism and friendliness for many situations. Look sharp but approachable as you and your business partners work the crowds at an indoor expo or outdoor sporting event. They are also great choices for company picnics, leadership workshops, and other team-building events where you want to show your group spirit.
Hassle-Free Shopping
You don't need any extra headaches when you're planning for your big event. Express Press promises a great online experience. You can order as many or few shirts as you want, and we'll even help you figure out what to order and how to design it if you're not sure. Your custom embroidered shirts can be the perfect touch for any event.